A SUMMARY OF THE EVIDENCE FOR EVOLUTION
This is a compilation of the basics of evolution and a broad brush of the sources of evidence for evolution. Prompted by requests from friends and family to procure evidence for evolution, this is the summary of some of the most controversial subtopics of the evidence for evolution. It is meant to be a springboard for those who know little about evolution or have been told that evolution is just a belief like creationism.
EVOLUTION BASICS
In biology, evolution is the change in the inherited traits of a population of organisms through successive generations. Evolution does not explain how life first began, nor is it a science of cosmology, dealing with what occurred before the beginning of the known universe. Evolution is the science of how different organisms have developed and diversified since life first appeared on earth. When a population splits into smaller groups, these groups evolve independently and develop into new species. The fossil record evidence for evolution not only recorded these changes, but it is astonishing how many fossils we have been able to find when considering how circumstantial the process of fossilization is. The earth has been radio isotope dated to be about 4.5 billion years old. Humans appear in the fossil record at 2 million years ago. All that space in between has been filled with the beginnings of life evolving over billions of years.
TREE OF LIFE
The "tree of life" which scientists have constructed to show the relation between all living things, must be understood to be a tree, not a ladder. When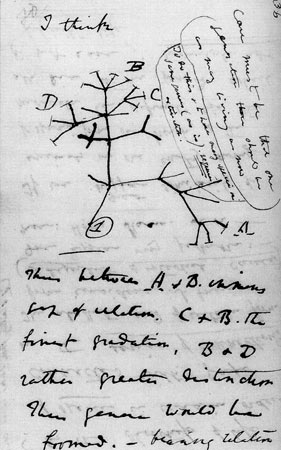 one species evolves from another over millions of years, the "parent species" from which the second animal evolved from may still be living and breeding amongst their population. Sometimes the second species that evolved from the parent species dies out before the parent species and sometimes the parent species dies out before the second. Some animals, like humans, apes and monkeys, share a common ancestor from which other species in each of our family trees branched off from. This common ancestor has since gone extinct while the branches of species evolving from this common ancestor have changed and continued branching over about 3.5 million years. Humans in our general anatomical form appear about 2 million years ago.
DNA
Even without the fossil record, it is possible to create a "tree of life" based solely on the DNA of every living organism. DNA is the "code" by which each organism is built. Small changes in that code are what drives evolution. We have been able to find out that the genetic difference between our cousin apes and ourselves is only a 1-2% difference. Genetically, we are slightly more distant from monkeys, about 4% difference. Since mapping the first genome in 2001, scientists have been able to map over 1000 genomes, mostly in those of bacteria and small animals like fruit flies (they have only 13 Chromosomes, making it less time consuming to decode). In the course of these studies, it has been found that there are certain types of yeast that are genetically more distant from one another than humans are from apes. Interestingly, Humans also share 80% of their DNA in common with sea sponges. Every living thing on the plant is our cousin. Some are more distant cousins and some are more closely related like primates.
When considering how life got started on earth 3 billion years ago, biologists theorized that RNA might have been the determining jump start. Made from basic elements found on earth, RNA still exists in living organisms today shuttling around information packets. In 2009, Sutherland experimented with the basic elements that comprise RNA and in a lab was able to "create" RNA strands. Read more here.
EVOLUTION IN ACTION
"Soft" creationism suggests that a creator made each living thing in a sequence that correlates to when they were found in the fossil record and generally refuses to relate any one species to another. This view does not explain how species have evolved over the short period of time that humans have been breeding livestock, dogs, plants and yeast. Humans have successfully accomplished artificial evolution through breeding. All modern variations of the Dog, for example can be genetically traced back to wolves. Intense domestication of the dog has occurred over the last 150 years, resulting in over 150 types of purebred dogs. The dog, Canis familiaris, are all descended from the wolf, Canis lupus. By mimicking nature, humans select traits and breed desired traits to get the desired result (a smaller size, a fluffier coat, a pug nose, etc). By breeding plants with choice traits, we have been able to "create" fruits with no seeds like bananas and watermelon. We have also been able to create seeds that are resistant to toxicants so we can spray these toxins on the crop and kill everything BUT the genetically modified plant. GMO crops are so drastically modified that they have been able to get patents for them.
Examples of "fast paced" evolution without human gain can be found in science labs. The E. coli long-term evolution experiment is an ongoing study in experimental evolution led by Richard Lenski that has been tracking genetic changes in 12 initially nearly identical populations of asexual Escherichia coli bacteria since February 24, 1988. The populations reached the milestone of 50,000 generations on February 14, 2010. 1 Over their 50,000 generations, the E. Coli bacteria evolved to be able to "digest" citrate, a compound that they were previously unable to digest for energy. Through natural selection, the bacteria that were able to cope with digesting even a little of the citrate were the only ones to pass on their genes, and with each generation, the trait that was able to digest citrate became more and more prominent, resulting in a population that was entirely happy digesting citrate. (Read more here)
When you go to the doctor and he prescribes you some antibiotics for a bacterial infection, what does he always say? FINISH THE WHOLE BOTTLE OF PILLS! Why? Because bacteria evolve to resist the antibiotics we throw at them. By taking the entire dose, you decrease the chance that a few "tougher" bacteria will survive your onslaught of drugs and go on to infect someone else. If that does happen and someone else gets your antibiotic resistant strain, the antibiotics will be less effective on these "super bugs". Necrotizing fasciitis is one of many new "super bacteria" that have evolved to be resistant to antibiotics. Read more.
EMBRYOLOGY
Evolution predicts that species with common ancestors should exhibit those same traits during embryological development. When we look at the embryological development of whales and dolphins, the embryos have arm and leg buds, with the same length and positioning of tetra-pod embryos
like humans. These legs later disappear. In fact, the first weeks of human embryonic development, the fetus is indistinguishable from the fetus of a shark, dog, whale, and even salamander. Animals that don't have tails, have tails in embryo form that later disappear, like humans. Human embryos carry a trait from our fish ancestry in the form of gills. These gills develop later into the lower jaw and the ear slit. (To learn more see Recapitulation Theory)
UNINTELLIGENT DESIGN: EYES
It is suggested by intelligent design advocates that complex organisms or organs could only have been "designed" by a creator because they are so perfect or so complex. The human eye is a favorite example creationists use to suppose intelligent design. They state that the eye could not have been functional in any evolutionary state prior to it's current form. They also claim the human eye is so complex and beautiful in "design" that it reflects the thoughtfulness of a creator.
To this first notion that the eye could not have been functional in any evolutionary state: Watch this short video by David Attenborough, then come back…

The eye, in all it's evolutionary stages is found in animals alive today. Each stage of the eye that is found in animals today logically and pragmatically leads to "advanced" eyes that humans, primates, dogs, cats etc all share. In fact, the human eye has more flaws than some other creatures…
To the second notion that the human eye is so complex and beautiful that it reflects the care of its "designer": There are two major items wrong with this assumption. 1) The human eye is less capable than the eyes of many animals. For example, Bees can see in ultraviolet as well as color. They, and most flying insects can see more frames per second than humans, allowing them to seem to "predict" when we are going to swat at them.
Birds possess both binocular vision – when both eyes focus on a single object and monocular vision – focusing on an object through only one eye. All birds have eyelids, but they've gone us one better. In addition to movable upper and lower lids, birds also have a third eyelid know as the nictitating membrane or nictitan. This is a semi-transparent membrane (although in owls alone it is opaque) that can be swept closed across the eye from the direction of the beak to the ear very quickly at the bird's will. The nictitating membrane is used to protect the eye as well as clean and lubricate it by brushing moisture secreted from the lachrymal gland across it with each blink. Just prior to striking their prey, raptors close their nictitans for protection against the possible lashing out of the captured animal. We humans have 200,000 visual cells per square millimeter in our fovea. Not bad until you consider that the small, unassuming English sparrow has 400,000 per square millimeter and the European Buzzard, the visual cell grand champ, has one million per square millimeter giving it a visual acuity of at least eight times that of a human.2 Peregrine Falcons have some of the best eyes in the animal kingdom. These amazing birds have evolved an eye beyond the human eye that has a denser lens center, allowing them to see through a sort of telescopic vision at the center of their eye. They have also solved a huge flaw in the human eye that has the veins covering the cornea. In humans, these veins cause a blind spot in the center of our vision, but in falcons, their ocular veins have moved out of the way of this critical spot. They have evolved these super eyes for diving and seeing prey at high air space.
Mantis Shrimp can see in 16 different color wavelengths, whereas human vision is skewed toward red and green. Vision can also vary in the maximum rate at which retinal cells can fire in response to light (the "flicker fusion point," at which a blinking light no longer seems to blink). Most people can't detect more than about sixty blinks (frames) a second. A fluorescent light, for instance, actually blinks on and off sixty times a second, but most people perceive the light as continuous. For dogs, though, the maximum detectable frame rate is closer to eighty blinks a second, and so a dog may actually see the flickering. Seeing with more frames per second is what allows animals and insects to react faster to visual stimulus. Although color-blind, the cuttlefish has two of the most highly developed eyes in the animal kingdom. It can see well in low light and can also detect polarized light, enhancing its perception of contrast. While we humans reshape our lenses in order to focus on specific objects, the cuttlefish moves its lenses by reshaping its entire eye. Also, the cuttlefish's eyes are very large in proportion to its body and may increase image magnification upon the retina, while the distinct "W" shaped pupil helps control the intensity of light entering the eye. 3
2) The human eye has optical imperfections. Human eyes are imperfect because evolution is a slow process of change, not an instant "creation" of an organ. A thoughtful designer would have made such a necessary organ in humans with more care than we find in human eyes. In the human
eye, nerve cells and blood vessels lie in front the of retina where they interfere with the eye's ability to see images. The optic nerve itself also connects to the brain through a whole in the back of the retina, causing a blind spot in human vision. By placing the nerves and blood vessels in the way of light entering the eye, a suggested designer greatly decreased the ability of the eye. Also, the blind spot is an unnecessary flaw in the "design" of an eye. Humans have been able to design better versions of what the eye could be, had it been a thoughtful process. What we find instead, is that the eye evolved through every stage visible in animals today. It is these evolutionary stages that lead to the current anatomy of the human eye. Please take a moment to watch this video by PBS on the evolution of the human eye and the problems with it's "design":

RESOURCES
Evolution is such an immense topic, with many facets and disciplines, it is difficult to condense everything you need to know into one web page. I've tried to brush over the major areas of study. It is like trying to give you a crash course in chemistry though, and I can't do the science justice in a few emails. I'll give you many forms and ways to discover more about the facts of evolution on your own time.
The Basics on the Theory of Evolution: http://www.youtube.com/watch?v=vss1VKN2rf8
American Museum of Natural History:  http://www.amnh.org/science/
A visual museum of fossils: http://www.fossilmuseum.net/
Talk Origins Website: http://www.talkorigins.org/
Primate Evolution Tree: http://www.handprint.com/LS/ANC/evol.html#chart
Fossils associated with the Primate Evolution tree: http://en.wikipedia.org/wiki/List_of_human_evolution_fossils
Videos can be the most helpful because you get to view fossils and visual aids.
PBS has a "portal" of videos related to evolution: http://www.pbs.org/wgbh/evolution/
Dawkins on the evolution of the eye: http://www.youtube.com/watch?v=A5e2c6uliTw&feature=related
Paleoanthropology Links http://www.talkorigins.org/faqs/homs/links.html
Berkley University has a hub for articles explaining evolution. You can browse all four topics: http://evolution.berkeley.edu/
The most recent book I have read on Evolution is call "The Greatest Show on Earth: The Evidence for Evolution" by Dawkins. Dawkins is a biologist who lays out the evidence for evolution in detail, going through all the varying types of evidence so far uncovered. It is the best "lay man's" explanation in book form I have yet come across.
This is a 25 minute interview where Dawkins answers questions about his book: http://www.youtube.com/watch?v=aUFOlyt7ErE